About Us
Americanos Pizza is a Pizza takeaway in Barnsley. Why don't you try our Americanos Family Meal or Create Your Own Pizza?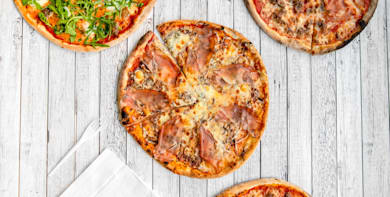 Reviews
436 reviews
Alex
"Great food and service."
23/05/2020
Ian
"Arrived early really nice kebabs ..."
22/05/2020
Hannah
"Very disappointed only reason was not a 5 was you sent the wrong burger and did not like the burger sent so spoils the wife takeway"
22/05/2020
Ricky
"Lovely fresh hot food and very tasty"
18/05/2020
Menu
Vegetarian Burger Half Pounder
With lettuce & mayonnaise
£5.25
Vegetarian Burger Quarter Pounder
With lettuce & mayonnaise
£4.25
Chicken Burger Half Pounder
With lettuce & mayonnaise
£5.25
Chicken Burger Quarter Pounder
With lettuce & mayonnaise
£4.25
Chicken Fillet Burger
(Only one size) With lettuce & mayonnaise
£3.95
Cheeseburger Half Pounder
£5.25
Cheeseburger Quarter Pounder
£4.25
Bacon Burger Half Pounder
With sliced cheese & bacon
£5.25
Bacon Burger Quarter Pounder
With sliced cheese & bacon
£4.25
Beef Burger Quarter Pounder
£4.25
American Burger Half Pounder
With fried mushroom, onion & cheese
£5.25
American Burger Quarter Pounder
With fried mushroom, onion & cheese
£4.25
Doner Burger Half Pounder
With cheese & doner meat
£5.25
Doner Burger Quarter Pounder
With cheese & doner meat
£4.25
Hawaiian Burger Half Pounder
With cheese & pineapple
£5.25
Hawaiian Burger Quarter Pounder
With cheese & pineapple
£4.25
Hot & Spicy 09.5" Deep Pan
Beef, onions, peppers & jalapeno peppers
£5.75
Hot & Spicy 09.5" Thin Crust
Beef, onions, peppers & jalapeno peppers
£5.75
Hot & Spicy 11.5" Deep Pan
Beef, onions, peppers & jalapeno peppers
£7.25
Hot & Spicy 11.5" Thin Crust
Beef, onions, peppers & jalapeno peppers
£7.25
Hot Shot 09.5" Deep Pan
Pepperoni, onions, peppers & jalapeno peppers
£5.75
Hot Shot 09.5" Thin Crust
Pepperoni, onions, peppers & jalapeno peppers
£5.75
Hot Shot 11.5" Deep Pan
Pepperoni, onions, peppers & jalapeno peppers
£7.25
Hot Shot 11.5" Thin Crust
Pepperoni, onions, peppers & jalapeno peppers
£7.25
Kebab Della 09.5" Deep Pan
Doner meat
£5.75
Kebab Della 09.5" Thin Crust
Doner meat
£5.75
Kebab Della 11.5" Deep Pan
Doner meat
£7.25
Kebab Della 11.5" Thin Crust
Doner meat
£7.25
Margherita 09.5" Deep Pan
Mozzarella cheese & tomato
£4.45
Margherita 09.5" Thin Crust
Mozzarella cheese & tomato
£4.45
Margherita 11.5" Deep Pan
Mozzarella cheese & tomato
£5.95
Margherita 11.5" Thin Crust
Mozzarella cheese & tomato
£5.95
Meat Feast 09.5" Deep Pan
Ham, beef, chicken, salami & pepperoni
£5.75
Meat Feast 09.5" Thin Crust
Ham, beef, chicken, salami & pepperoni
£5.75
Meat Feast 11.5" Deep Pan
Ham, beef, chicken, salami & pepperoni
£7.25
Meat Feast 11.5" Thin Crust
Ham, beef, chicken, salami & pepperoni
£7.25
Mexicano 09.5" Deep Pan
Pepperoni, beef, onions & jalapeno peppers
£5.75
Mexicano 09.5" Thin Crust
Pepperoni, beef, onions & jalapeno peppers
£5.75
Mexicano 11.5" Deep Pan
Pepperoni, beef, onions & jalapeno peppers
£7.25
Mexicano 11.5" Thin Crust
Pepperoni, beef, onions & jalapeno peppers
£7.25
Mighty Meat 09.5" Deep Pan
Pepperoni, ham, kebab meat & smokey bacon
£5.75
Mighty Meat 09.5" Thin Crust
Pepperoni, ham, kebab meat & smokey bacon
£5.75
Mighty Meat 11.5" Deep Pan
Pepperoni, ham, kebab meat & smokey bacon
£7.25
Mighty Meat 11.5" Thin Crust
Pepperoni, ham, kebab meat & smokey bacon
£7.25
Fungi 09.5" Deep Pan
Double mushroom
£5.75
Fungi 09.5" Thin Crust
Double mushroom
£5.75
Fungi 11.5" Deep Pan
Double mushroom
£7.25
Fungi 11.5" Thin Crust
Double mushroom
£7.25
Ham 09.5" Deep Pan
Double ham
£5.75
Ham 09.5" Thin Crust
Double ham
£5.75
Ham 11.5" Deep Pan
Double ham
£7.25
Ham 11.5" Thin Crust
Double ham
£7.25
Ham & Bacon 09.5" Deep Pan
£5.75
Ham & Bacon 09.5" Thin Crust
£5.75
Ham & Bacon 11.5" Deep Pan
£7.25
Ham & Bacon 11.5" Thin Crust
£7.25
Ham & Mushroom 09.5" Deep Pan
£5.75
Ham & Mushroom 09.5" Thin Crust
£5.75
Ham & Mushroom 11.5" Deep Pan
£7.25
Ham & Mushroom 11.5" Thin Crust
£7.25
Ham & Pepperoni 09.5" Deep Pan
£5.75
Ham & Pepperoni 09.5" Thin Crust
£5.75
Ham & Pepperoni 11.5" Deep Pan
£7.25
Ham & Pepperoni 11.5" Thin Crust
£7.25
American Special 09.5" Deep Pan
Ham, mushrooms, onions, peppers, sweetcorn & pepperoni
£5.75
American Special 09.5" Thin Crust
Ham, mushrooms, onions, peppers, sweetcorn & pepperoni
£5.75
American Special 11.5" Deep Pan
Ham, mushrooms, onions, peppers, sweetcorn & pepperoni
£7.25
American Special 11.5" Thin Crust
Ham, mushrooms, onions, peppers, sweetcorn & pepperoni
£7.25
Bolognese Pizza 09.5" Deep Pan
Bolognese sauce
£5.75
Bolognese Pizza 09.5" Thin Crust
Bolognese sauce
£5.75
Bolognese Pizza 11.5" Deep Pan
Bolognese sauce
£7.25
Bolognese Pizza 11.5" Thin Crust
Bolognese sauce
£7.25
BBQ Chicken 09.5" Deep Pan
BBQ sauce & chicken
£5.75
BBQ Chicken 09.5" Thin Crust
BBQ sauce & chicken
£5.75
BBQ Chicken 11.5" Deep Pan
BBQ sauce & chicken
£7.25
BBQ Chicken 11.5" Thin Crust
BBQ sauce & chicken
£7.25
Chicken & Ham 09.5" Deep Pan
£5.75
Chicken & Ham 09.5" Thin Crust
£5.75
Chicken & Ham 11.5" Deep Pan
£7.25
Chicken & Ham 11.5" Thin Crust
£7.25
Chicken & Mushroom 09.5" Deep Pan
£5.75
Chicken & Mushroom 09.5" Thin Crust
£5.75
Chicken & Mushroom 11.5" Deep Pan
£7.25
Chicken & Mushroom 11.5" Thin Crust
£7.25
Chicken & Pepperoni 09.5" Deep Pan
£5.75
Chicken & Pepperoni 09.5" Thin Crust
£5.75
Chicken & Pepperoni 11.5" Deep Pan
£7.25
Chicken & Pepperoni 11.5" Thin Crust
£7.25
Chicken & Sweetcorn 09.5" Deep Pan
£5.75
Chicken & Sweetcorn 09.5" Thin Crust
£5.75
Chicken & Sweetcorn 11.5" Deep Pan
£7.25
Chicken & Sweetcorn 11.5" Thin Crust
£7.25
Create Your Own Pizza 09.5" Deep Pan
Choose any toppings
£5.95
Create Your Own Pizza 09.5" Thin Crust
Choose any toppings
£5.95
Create Your Own Pizza 11.5" Deep Pan
Choose any toppings
£7.95
Create Your Own Pizza 11.5" Thin Crust
Choose any toppings
£7.95
Della Special 09.5" Deep Pan
Mushroom, onion, peppers & kebab meat
£5.75
Della Special 09.5" Thin Crust
Mushroom, onion, peppers & kebab meat
£5.75
Della Special 11.5" Deep Pan
Mushroom, onion, peppers & kebab meat
£7.25
Della Special 11.5" Thin Crust
Mushroom, onion, peppers & kebab meat
£7.25
Vegetarian Hot 09.5" Deep Pan
Mushrooms, onions, olives, fresh tomato & jalapeno peppers
£5.75
Vegetarian Hot 09.5" Thin Crust
Mushrooms, onions, olives, fresh tomato & jalapeno peppers
£5.75
Vegetarian Hot 11.5" Deep Pan
Mushrooms, onions, olives, fresh tomato & jalapeno peppers
£7.25
Vegetarian Hot 11.5" Thin Crust
Mushrooms, onions, olives, fresh tomato & jalapeno peppers
£7.25
Vegetarian 09.5" Deep Pan
Mushrooms, sweetcorn, onions & peppers
£5.75
Vegetarian 09.5" Thin Crust
Mushrooms, sweetcorn, onions & peppers
£5.75
Vegetarian 11.5" Deep Pan
Mushrooms, sweetcorn, onions & peppers
£7.25
Vegetarian 11.5" Thin Crust
Mushrooms, sweetcorn, onions & peppers
£7.25
Toscana 09.5" Deep Pan
Ham, mushrooms, onions & peppers
£5.75
Toscana 09.5" Thin Crust
Ham, mushrooms, onions & peppers
£5.75
Toscana 11.5" Deep Pan
Ham, mushrooms, onions & peppers
£7.25
Toscana 11.5" Thin Crust
Ham, mushrooms, onions & peppers
£7.25
Tuna & Sweetcorn 09.5" Deep Pan
£5.75
Tuna & Sweetcorn 09.5" Thin Crust
£5.75
Tuna & Sweetcorn 11.5" Deep Pan
£7.25
Tuna & Sweetcorn 11.5" Thin Crust
£7.25
Spicy Beef 09.5" Deep Pan
Beef & onions
£5.75
Spicy Beef 09.5" Thin Crust
Beef & onions
£5.75
Spicy Beef 11.5" Deep Pan
Beef & onions
£7.25
Spicy Beef 11.5" Thin Crust
Beef & onions
£7.25
Spicy Chicken 09.5" Deep Pan
Chicken, mushroom, onion & jalapeno peppers
£5.75
Spicy Chicken 09.5" Thin Crust
Chicken, mushroom, onion & jalapeno peppers
£5.75
Spicy Chicken 11.5" Deep Pan
Chicken, mushroom, onion & jalapeno peppers
£7.25
Spicy Chicken 11.5" Thin Crust
Chicken, mushroom, onion & jalapeno peppers
£7.25
Salami & Pepperoni 09.5" Deep Pan
£5.75
Salami & Pepperoni 09.5" Thin Crust
£5.75
Salami & Pepperoni 11.5" Deep Pan
£7.25
Salami & Pepperoni 11.5" Thin Crust
£7.25
Sweet Vegetarian 09.5" Deep Pan
Mushrooms, sweetcorn, tomato, onions & pineapple
£5.75
Sweet Vegetarian 09.5" Thin Crust
Mushrooms, sweetcorn, tomato, onions & pineapple
£5.75
Sweet Vegetarian 11.5" Deep Pan
Mushrooms, sweetcorn, tomato, onions & pineapple
£7.25
Sweet Vegetarian 11.5" Thin Crust
Mushrooms, sweetcorn, tomato, onions & pineapple
£7.25
Hawaiian 09.5" Deep Pan
Ham & pineapple
£5.75
Hawaiian 09.5" Thin Crust
Ham & pineapple
£5.75
Hawaiian 11.5" Deep Pan
Ham & pineapple
£7.25
Hawaiian 11.5" Thin Crust
Ham & pineapple
£7.25
Pepperoni 09.5" Deep Pan
Double pepperoni
£5.75
Pepperoni 09.5" Thin Crust
Double pepperoni
£5.75
Pepperoni 11.5" Deep Pan
Double pepperoni
£7.25
Pepperoni 11.5" Thin Crust
Double pepperoni
£7.25
Pepperoni Special 09.5" Deep Pan
Pepperoni, mushroom, onion & peppers
£5.75
Pepperoni Special 09.5" Thin Crust
Pepperoni, mushroom, onion & peppers
£5.75
Pepperoni Special 11.5" Deep Pan
Pepperoni, mushroom, onion & peppers
£7.25
Pepperoni Special 11.5" Thin Crust
Pepperoni, mushroom, onion & peppers
£7.25
Pollo 09.5" Deep Pan
Double chicken
£5.75
Pollo 09.5" Thin Crust
Double chicken
£5.75
Pollo 11.5" Deep Pan
Double chicken
£7.25
Pollo 11.5" Thin Crust
Double chicken
£7.25
Pollo Special 09.5" Deep Pan
Chicken, mushroom, sweetcorn, onion, peppers
£5.75
Pollo Special 09.5" Thin Crust
Chicken, mushroom, sweetcorn, onion, peppers
£5.75
Pollo Special 11.5" Deep Pan
Chicken, mushroom, sweetcorn, onion, peppers
£7.25
Pollo Special 11.5" Thin Crust
Chicken, mushroom, sweetcorn, onion, peppers
£7.25
Seafood 09.5" Deep Pan
Tuna, prawns & anchovies
£5.75
Seafood 09.5" Thin Crust
Tuna, prawns & anchovies
£5.75
Seafood 11.5" Deep Pan
Tuna, prawns & anchovies
£7.25
Seafood 11.5" Thin Crust
Tuna, prawns & anchovies
£7.25
Smokey Bacon 09.5" Deep Pan
Mushroom, peppers, salami, pepperoni & smokey bacon
£5.75
Smokey Bacon 09.5" Thin Crust
Mushroom, peppers, salami, pepperoni & smokey bacon
£5.75
Smokey Bacon 11.5" Deep Pan
Mushroom, peppers, salami, pepperoni & smokey bacon
£7.25
Smokey Bacon 11.5" Thin Crust
Mushroom, peppers, salami, pepperoni & smokey bacon
£7.25
Chicken Tikka Pizza 09.5" Deep Pan
£5.75
Chicken Tikka Pizza 09.5" Thin Crust
£5.75
Chicken Tikka Pizza 11.5" Deep Pan
£7.25
Chicken Tikka Pizza 11.5" Thin Crust
£7.25
Vanilla Ice Cream with Banana Milkshake
£3.75
Kinder Bueno Choco Milkshake
£3.75
Kinder Bueno White Choco Milkshake
£3.75
CDM Oreomint Choco Milkshake
£3.75
Doner Kebab - Large
With salad, pitta bread & chilli OR garlic sauce
£5.45
Chicken Shish Kebab - Large
With salad, pitta bread & chilli OR garlic sauce
£6.45
Chicken & Doner Mix Kebab - Large
With salad, pitta bread & chilli OR garlic sauce
£6.45
Chicken Meat & Chips
Served with chilli OR garlic sauce
£6.95
Chicken & Lamb Shish Mix Kebab - Large
With salad, pitta bread & chilli OR garlic sauce
£6.75
Americanos Special Kebab - Large
Doner meat, chicken & lamb shish kebab with salad, 2 pitta breads & chilli OR garlic sauce
£8.95
Mix Meat & Chips
Doner & chicken with chilli OR garlic sauce
£6.75
Kebab Meat & Chips
Served with chilli OR garlic sauce
£5.45
Lamb Shish Kebab - Large
With salad, pitta bread & chilli OR garlic sauce
£6.75
Ben & Jerry's 500ml Chocolate Fudge Brownie
£5.50
Ben & Jerry's 500ml Chocolate Cookie Dough
£5.50
Mozzarella Sticks
8 Pieces
£3.75
Scampi
8 Pieces with chips & salad
£3.95
Chicken Nuggets
8 Pieces with chips & salad
£3.95
Chicken Kiev
With chips & salad
£4.45
Chicken Bites
6 Pieces with chips & salad
£4.25
Chicken Strips
4 Pieces with chips & salad
£4.25
Chips, Bolognese & Cheese
£3.95
Cream Cheese Jalapeno
6 Pieces
£3.75
Jacket Potatoes with Coleslaw
£3.95
Jacket Potatoes with Cheese & Bean
£3.95
Jacket Potatoes with Tuna & Mayo
£3.95
Yazoo Strawberry Milk
400ml
£1.20
Yazoo Chocolate Milk
400ml
£1.20
Simply Fruity Orange - 0.33L
£0.60
Simply Fruity Apple & Blackcurrant - 0.33L
£0.60
Garlic Bread with Cheese & Mushroom
£3.50
Garlic Bread with Cheese & Onion
£3.50
Garlic Bread with Cheese & Tomato
£3.50
Doner Calzone Large
Doner meat
£7.45
Doner Calzone Medium
Doner meat
£5.95
Mixed Calzone Large
Chicken & doner meat
£7.45
Mixed Calzone Medium
Chicken & doner meat
£5.95
Meat Feast Calzone Large
Doner meat, chicken, pepperoni, salami, ham & beef
£7.45
Meat Feast Calzone Medium
Doner meat, chicken, pepperoni, salami, ham & beef
£5.95
Calzone Kiev Large
Chicken & mushroom
£7.45
Calzone Kiev Medium
Chicken & mushroom
£5.95
Americanos Calzone Large
Doner meat, chicken, mushroom, onion & peppers
£7.45
Americanos Calzone Medium
Doner meat, chicken, mushroom, onion & peppers
£5.95
Special Calzone Large
Doner meat, mushroom & onion
£7.45
Special Calzone Medium
Doner meat, mushroom & onion
£5.95
Vegetable Calzone Large
Mushroom, onion, peppers & sweetcorn
£7.45
Vegetable Calzone Medium
Mushroom, onion, peppers & sweetcorn
£5.95
Americanos Calzone Meal
• Any 2 x medium calzones
• 2 Chips
• 2 Cans of drink
£14.45
Americanos Family Meal
• Any 2 x 11.5" large pizzas
• Any garlic bread
• 2 Chips
• Bottle of Pepsi
£17.95
Americanos Kebab Meal
• 2 x Large doner kebabs
• 2 x Chips
• 2 x Cans of drink
£12.45
Americanos Mega Meal
• Any 11.5" large pizza
• Chips
• Can of drink
£9.45
Americanos Pizza Meal
• Any 2 x 9.5" medium pizzas
• 2 Chips
• 2 Cans of drink
£13.45
Americanos Burger Meal
• Any 2 x quarter pounder burgers with chips
• 2 Cans of drink
£9.45
Americanos Burger Meal
• Any 2 x half pounder burgers with chips
• Any garlic bread
• Bottle of Pepsi
£12.95
Contact Us
Find Us
12 Market Hill, Barnsley, S702QE
We deliver to
S70, S71, S75